Welcome back, Ninnekah! JH Homecoming originally scheduled to be this week has been rescheduled to Jan 24th. A Homecoming Parade for both JH and HS will be Tues Dec 7th at 1:30pm, with pep rally immediately following. HS Homecoming will be later that evening. Mark your calendars now so you don't miss out!

Come out tonight, Friday Nov 19, to watch our NHS Owls and Lady Owls basketball teams take on Dibble at Ninnekah! Have a safe and happy Thanksgiving break next week! Classes will resume on Monday Nov 29.

Change: JH Basketball games tonight, Thurs Nov 18, are at HOME. Games start with 7th-8th at 4:30. Go Ninnekah!


Make the short drive to Am-Po tonight, Tues Nov 16, to support our HS Basketball teams play! JV Boys game is at 5:00pm, with regular HS games beginning at 6:30pm. Go Ninnekah!

Good luck Junior High Owls and Lady Owls tonight, Mon Nov 15, as they take on Cement at Home! Basketball games begin at 4:30, so come out and show your support!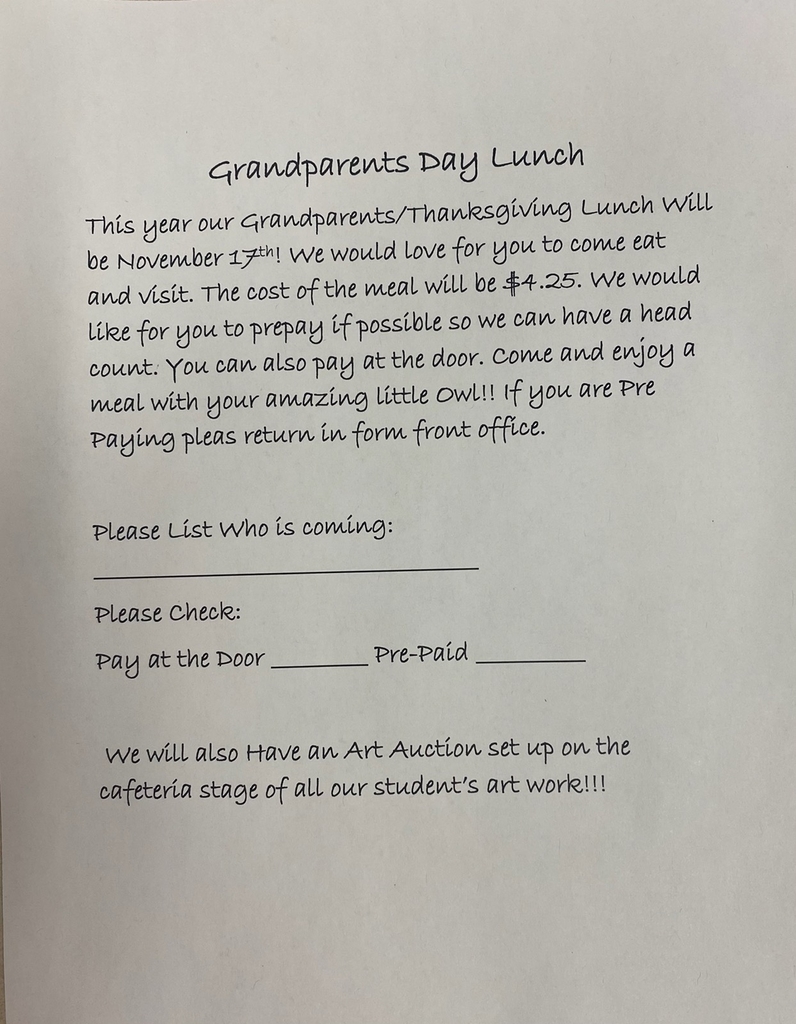 Veterans, parents, and community members are invited to the Ninnekah School Veterans Day program tomorrow, Thurs Nov 11, at 1:00pm in the gym. Ninnekah is proud of its many community members and graduates who have served and are still serving in the Armed Forces. Thank you for your service!

It's Fall Back time! Daylight Savings Time ends tonight, Nov 6, so set your clocks back one hour!

Come out and support our Owls and Lady Owls tonight, Friday Nov 5, at 6:30, for our first High School basketball games of the season! We take on Binger-Oney at home, so let's pack the gym! Go Ninnekah!


Good luck to our Ninnekah Junior High Owls as they play their first 7th-8th grade games of the season tonight, Monday, Nov 1, beginning at 4:30 at Pioneer! Note: This is a correction from the original schedule, so there will be no game on Thurs Nov 4th. Go Owls!

It's another busy week at Ninnekah! Here are a few reminders: Tues 10/26 is Individual Yearbook Picture Retakes (for PK-11) and Senior Panel Photos. 5th-6th Grade Basketball Tournament at AmPo all week. Remember Red Ribbon week dress-up days each day, with Halloween costumes on Friday!

This week is Red Ribbon Week, and Ninnekah is dressing up to take a stand against drugs! Each building has their own dress up day themes scheduled. If you missed the Elem or HS themes, they can be found at
https://www.ninnekah.k12.ok.us/article/568191

Remember to come out to Meet the Owls tonight, Fri 10/22, in the cafeteria! Doors open at 6pm with FREE admission and popcorn! Donations will be accepted. Also, a walking taco, water, and a cookie will be available for just $5. Let's support our Ninnekah Owls tonight!

The Ninnekah FFA Auction is tonight, Thurs Oct 21, at 6:30pm in the Cafeteria. The evening will include a Baked Potato Bar, in addition to the community service and project auction. Be sure to come and help support our Ninnekah FFA chapter!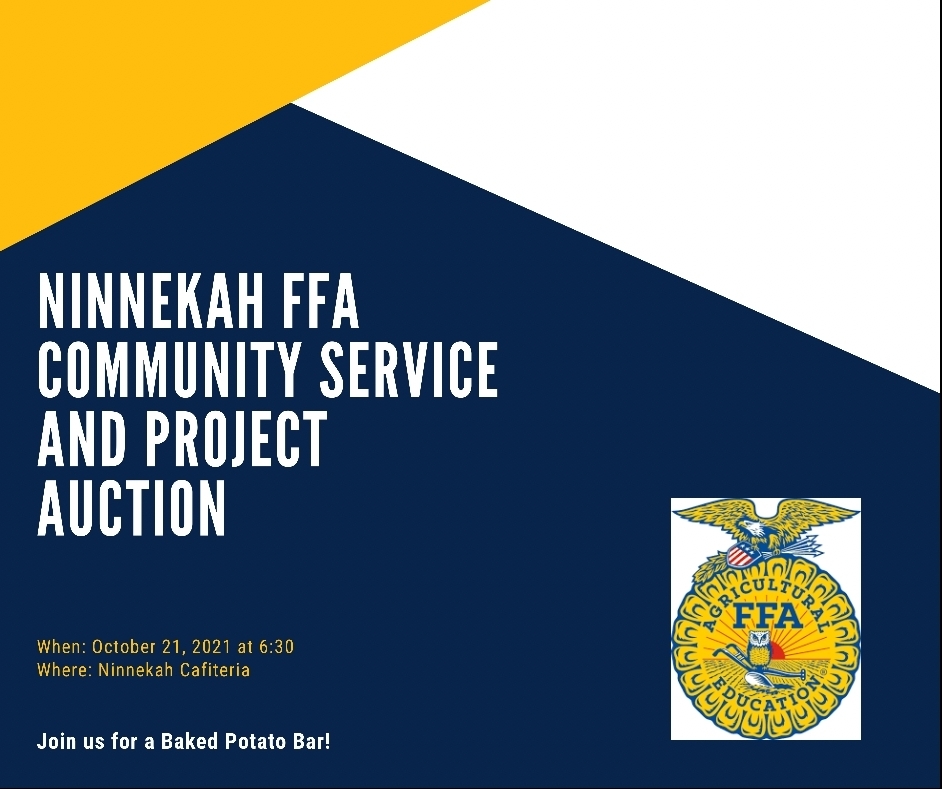 Come out to Meet the Owls on Friday, Oct 22! Doors open at 6pm with FREE entry and popcorn! Donations will be taken, and $5 walking taco meals will be available. Help us spread the word and pack the gym on Friday as we show our support for all of our owls as we introduce our student organizations, staff, and athletes for this school year!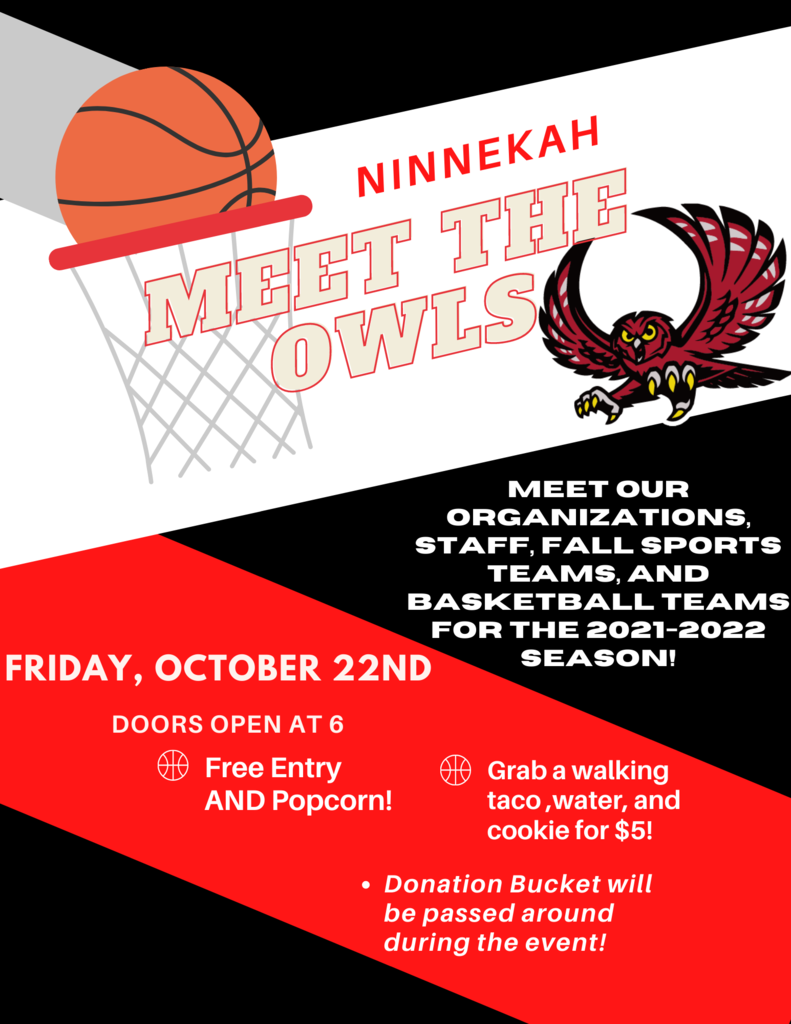 Parents: There is a meeting for JH and HS Boys Basketball athletes and parents tonight, Tuesday, Oct 19, at 6pm in the cafeteria.

Have a great Fall Break, Ninnekah! We will see you back on Tuesday, Oct. 19th!

The 1st grade field trip will be rescheduled for a later date. Thank you.