The new Ninnekah PTO is starting its first fundraising opportunity today! The Ninnekah PTO Sock Fundraiser is now available online. Visit the webpage link below and use the "click here" link to be sure that your purchase counts! Thank you, Ninnekah, for supporting our students and school!
https://ninnekahptosockfundraiser.com/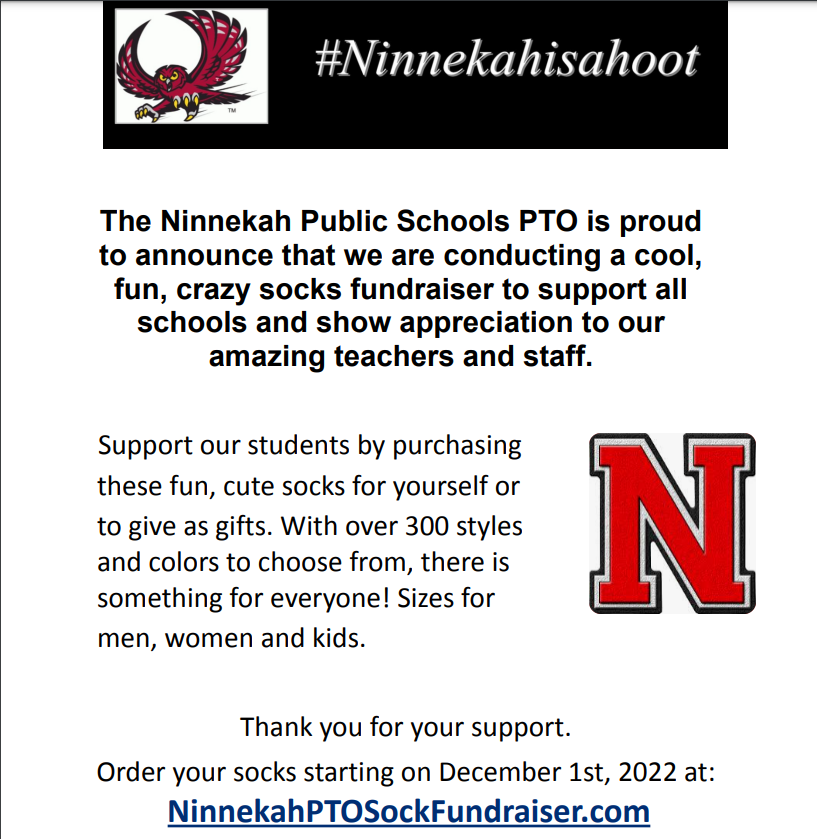 Ninnekah is forming a new PTO! Please consider being a part of this Parent Teacher Organization and join us for our first meeting on Tues Dec 6th at 5:30pm. Click the link for more information:
https://www.ninnekah.k12.ok.us/article/922520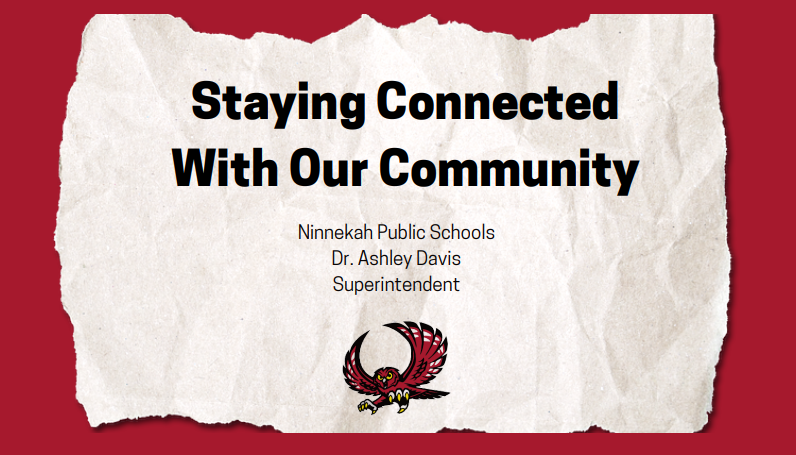 The Ninnekah Owls are holding a Coin War for local community member Russell Baker and his family. Russell suffered a stroke over Thanksgiving Break. Students in grades Pre-K through 8th are using the Coin War from 11/29/22 to 12/7/22, and all proceeds will go to this family.
Monday, November 28th, busses will have to run double routes due to a driver shortage. Students that ride Mr Hurst's bus will be picked up about 45 minutes later than normal. All tardy due to the bus will be excused and all students will be able to eat breakfast. Thank you for your patience as we work through this issue.

Please remember that today is a Virtual Day. Students have assignments, and they must log in and make contact with their teachers in some way for attendance purposes. MS/HS students should check school emails and Google Classroom. Elem parents should receive information from their child's teacher by their usual method of contact. Students should know their log in info. Have a great day!

Due to excessive absences for flu, we will be VIRTUAL tomorrow, November 18th. Students should login to complete class work and be counted as present. Buildings will be disinfected. Remember there is No School next week for Thanksgiving Break!


Congratulations to Senior Lady Owls Savannah & Sydney Jackson on signing with the Hesston Larks!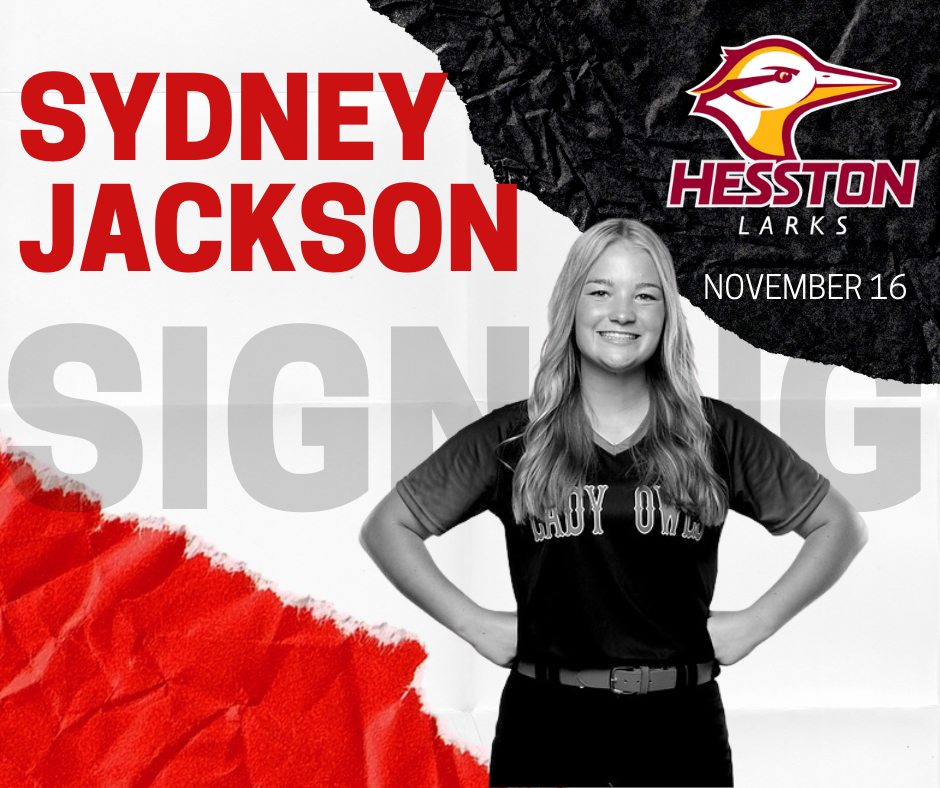 Reminders: Tonight be sure to come at 6:00pm in the Cafeteria for our Parent University: Drugs/Fentanyl Crisis. Tomorrow, Wed Nov 16th, is our Grandparent/Guest Lunch with the Kids. Student artwork will be available for purchase by donation, and grandparents/guests should go directly to the cafeteria at their child's regular lunch time (must be signed up and pre-paid).

Please join us for our November Parent University tomorrow, Tues Nov 14, at 6:00pm in the Cafeteria. Special guest speaker Mr. Jimmy Peek, TDS/DEA, will be presenting life-saving information about Drugs-Fentanyl Crisis.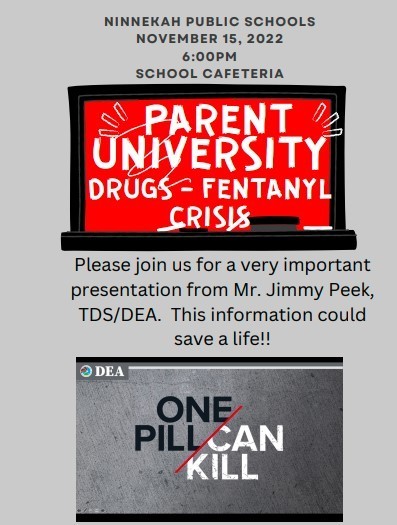 All JH basketball games at Cement for tonight, Mon Nov 14, have been CANCELLED. No further decisions have been made at this time, but we will keep you updated.

Grandparent / Guest Lunch With the Kids is scheduled for Wed Nov 16th! Please click the link below for more information and a sign-up form. Money and forms are due back by this Fri Nov 11th!
https://www.ninnekah.k12.ok.us/article/901494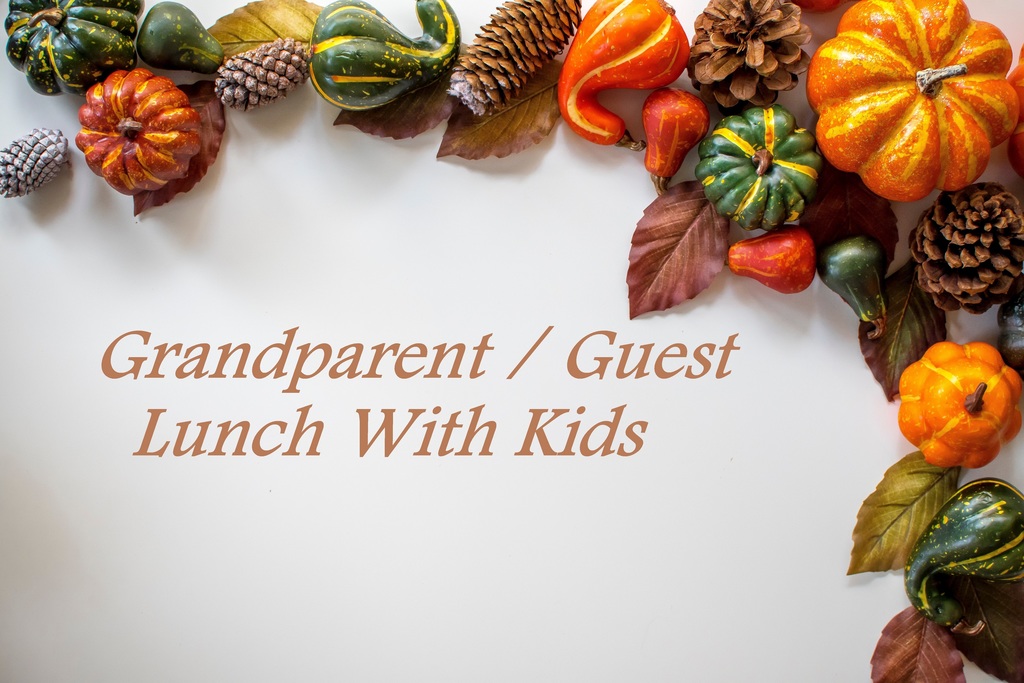 Our first HOME JH Basketball games are tonight, Mon Nov 7th, against Minco! The 7th/8th grade will start us off at 4:30pm, followed by the JH teams at 6:30pm. The first home HS Basketball games are tomorrow, Tues Nov 8th, beginning at 6:30pm against Cement. Please come out to support our Ninnekah Owls and Lady Owls this week!

If your child has been sick, please remember that he/she must be free from fever, diarrhea, and vomiting for a full 24 hours before returning to school. Also, please remember to return your photo release forms of you have not already done so. Thank you!

There are multiple opportunities to support our Ninnekah Owls tonight, Thurs Nov 3rd! You can come cheer on our 7th/8th Grade Basketball Teams as they play at Pioneer beginning at 5pm. Also, you can join us for the NHS FFA Dinner & Auction that will begin at 6:30pm. Be sure to come out and show your support!

Attention MS/HS: The A La Carte will be Closed until Tues Nov 8th. There will be NO a la carte items available during lunch until then. Thank you.

Don't miss the October Update from our Superintendent, Dr. Ashley Davis! Click the link below to the pdf file. Remember that if you are not able to open the file from your mobile device, you may need to download a pdf viewer first.
https://5il.co/1k3vr
Good luck to our JH and HS basketball teams tonight as they travel to Fletcher for their first games of the season! Go Owls!

Ninnekah JH and HS Basketball starts this week! Both teams play at Fletcher on Tues, Nov 1st, with JH at 4pm and HS at 6:30pm. Other events this week: Wed Nov 2nd - Blood Drive at the HS 9am-2pm. Thurs Nov 3rd - 7th/8th Basketball at Pioneer 5pm, and FFA Dinner & Auction at 6:30pm. Fri Nov 4th - HS Basketball at Binger-Oney at 6:30pm. Have a great week, Owls!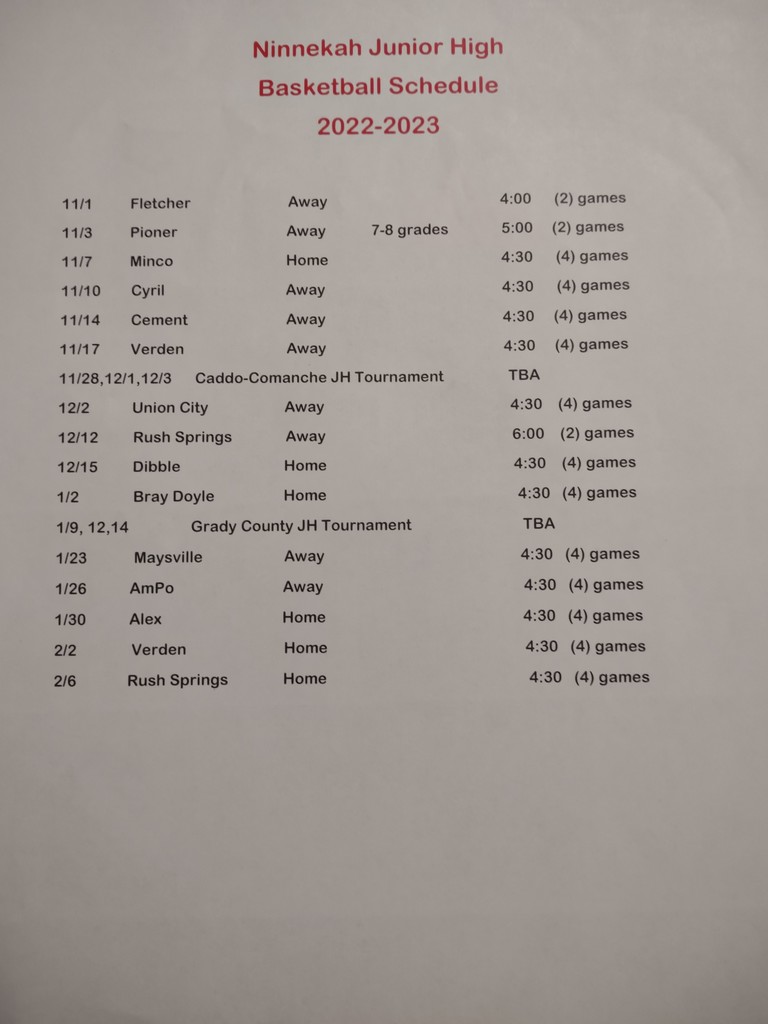 Today was a great time at Trick the Halls! Thank you everyone who helped out and brought candy. Remember to join us tonight in the gym for Meet the Owls at 6pm. Bring your appetite and buy a pulled pork sandwich, drink, chips, and a cookie meal as a part of this annual fundraising event! Good luck to our Elementary Basketball teams playing for the Consolation Championships of the Am-Po Tournament tonight!