Ninnekah Special Education Dept is currently searching for a paraprofessional to help in the Elementary. For details, please contact Terry Jones at (405)320-0745 or
t.jones@ninnekah.k12.ok.us

Have a great Labor Day weekend, Ninnekah, and we will see you back on Tuesday, Sept 7th!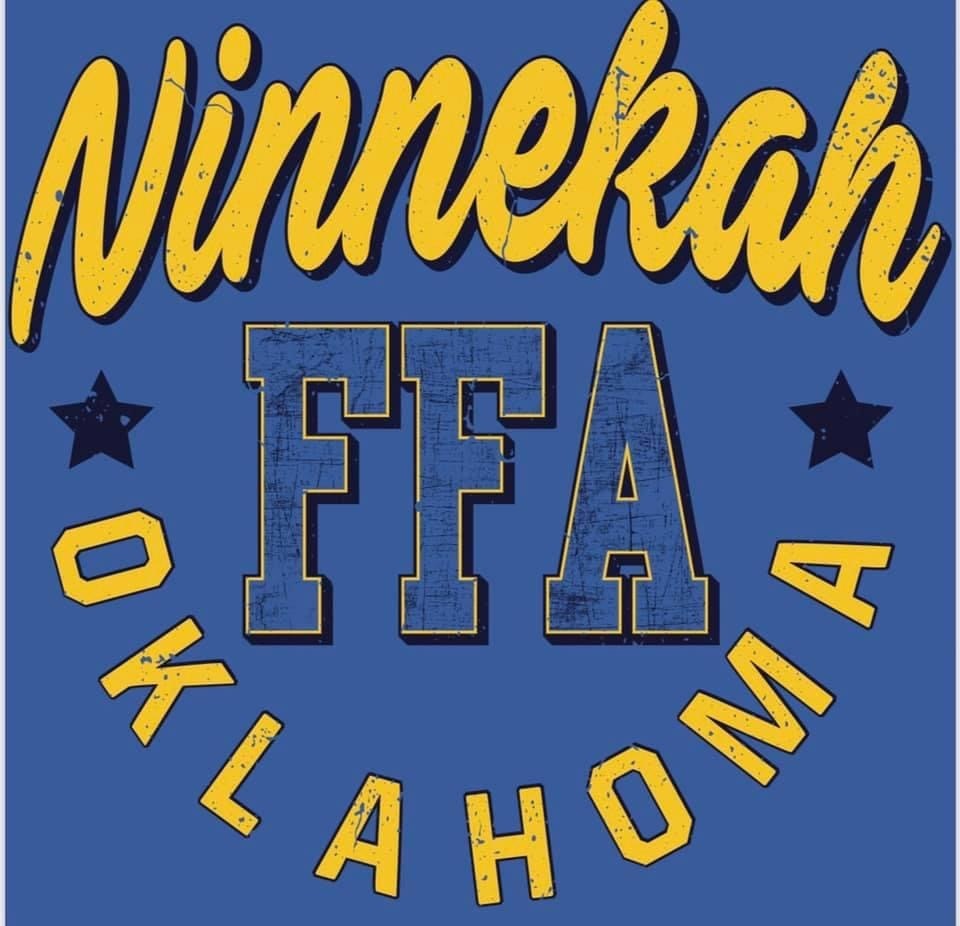 The JOM parent meeting (for Native American students) scheduled for tonight, Tues Aug 25th, has been cancelled.

Don't forget the FFA Back to School Bash tonight, Tues Aug 24th, 6:00pm-8:00pm in the Ag building!

Reminder: Jostens will be at the HS Tues, Aug 24th, at 10:30 to take orders in person. Remember that money is also due at this time for certain items.

The School Board will call roll in the board room tomorrow night, Thursday, Aug 19th, and then relocate to the cafeteria.

Jostens will be coming to NHS Aug 19 to present, and then will be back Aug 24 to take orders. Jostens offers graduation products, class rings, etc. See flyer image or find printable pdf flyer at
https://5il.co/xai0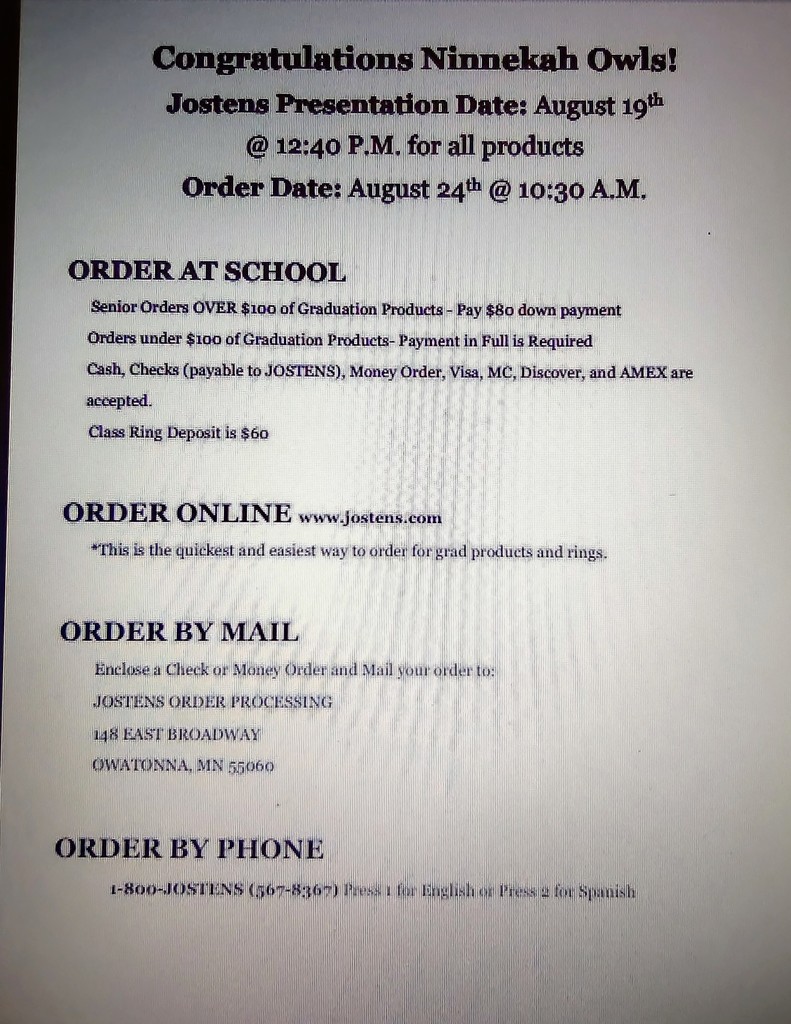 There will be a JOM parent meeting Aug 25, 5:30pm, in the MS computer lab.

Tomorrow, Thurs Aug 12th, is Ninnekah's first day of school! Thank you to everyone who came out to Open House last night at the Elem and MS. Remember, HS students will NOT go to CareerTech the first day - come to the school instead. Elem: building opens at 8:00am. MS and HS: 1st bell rings at 8:15am - go to cafeteria at this time for instructions the first day. We look forward to seeing you!


Correction: Elem/MS Open House is Tues Aug 10th, 6pm-7pm.

Reminder: Athletic and bus driver physicals today, Tues Aug 3rd from 4:30-7pm in the HS library. Fee for athletes is $25. Also, mark your calendars for Elem/MS Open House on Tues Aug 7th from 6pm-7pm. First day of school is Thurs Aug 12th!

Supply Lists/Fees can be found at
https://www.ninnekah.k12.ok.us/article/500515
Upcoming events: Aug 2: Scheduled maintenance may interrupt some internet and phone service on campus. Aug 3: Athletic physicals in HS library 4:30-7pm.

Parents enrolling using online forms: Remember to complete one lunch form for your family! It is on the enrollment tab. HS students: Please come by to select your elective preferences! Parents still must complete enrollment forms.

All sites (Elem, MS, and HS) will be open for enrollment today, Thurs 7/29, 4pm-7pm. Online forms, and now Supply Lists/Fees, can be found by clicking the tab at the top of our home page or
https://www.ninnekah.k12.ok.us/page/enrollment
.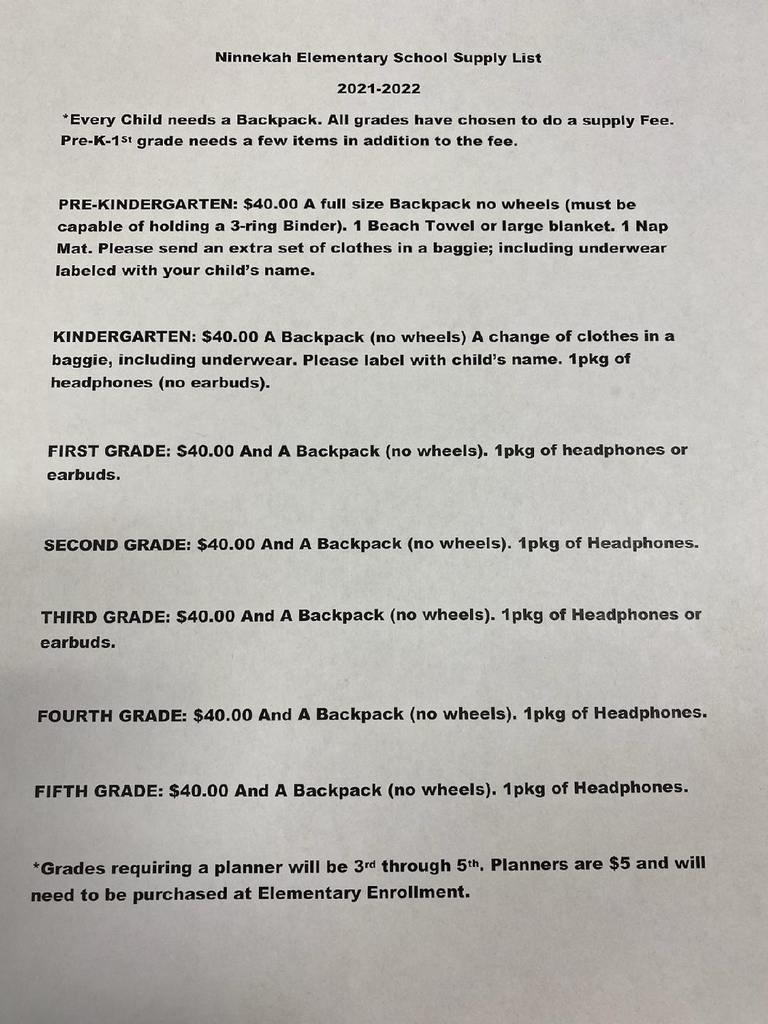 Enrollment forms and instructions are located at the tab at the top of our website homepage (HS forms will be available there by this afternoon). High School students: please come to the school during enrollment times tomorrow, Thurs 7/29, between 4pm and 7pm to sign up for your preferred schedule of classes. Remember that forms may be completed online or by hand, however online forms must be completed by using a computer.

Athletic Physicals will be offered on Tues Aug 3 from 4:30pm-7pm in the Ninnekah High School Library. The cost is $25 for student athletes, but they are free for Ninnekah bus drivers.

Enrollment is Wed July 28 for Elem and MS from 9am-3pm and on Thurs July 29 for Elem and HS from 4pm-7pm. Parents can complete forms by hand or online (links will be at the top of the school website). Ninnekah is only offering in-person instruction for 2021-22.

The 2021 Fast Pitch Softball Season has started for both junior high and high school. Anyone wanting to play needs to contact Coach Jones: (405) 320-0745 or Coach Foust: (405) 201-3018 as soon as possible!