Mark your calendars: There will be No School on Fri 3/10, followed by Spring Break 3/13-3/17! (See Events on district page) Also, the March Cafeteria Menu is now available both on our app and website! Just go to any page, click Menu, and find Cafeteria for quick reference. A picture of the entire menu can be found on district page in Documents.

Events this week: Grady County Stock Show is going on 27th, 28th, 1st, & 2nd in Chickasha. Wed 3/1 End of 3rd Quarter, and FFA Blue & Gold money is due. Fri 3/3 MS Reward Trip. Also, HS/JH Spring Baseball teams begin their season at Wayne. Have a great week, Ninnekah!

Tomorrow, Sat 2/25, will be the Ninnekah Local Livestock Show and 6th-7th Gr Academic Regionals. Also, if the Lady Owls win in basketball tonight, they will play again Sat afternoon in Latta. Good luck to all of the students who are representing Ninnekah this weekend!

NHS Lady Owls are moving on in Regionals tonight, Fri 2/24, at 6:30pm at Latta! HS Fan Bus leaves at 4:15. Bring $15 ($5 admission plus food). Please send signed note allowing your student to ride.

Congrats to NHS Lady Owls basketball in their win today against Walters! It was a close game all the way, with a final score of 34-33! Their next game in Regionals will be tomorrow night, Fri 2/24, 6:30pm, at Latta. Go Ninnekah!

Congratulations to the NHS Lady Owls as they move on to Regionals! Girls vs Walters Thur 2/23, 1:30pm at Walters. Pep Assembly will be held Wed, and HS will take student Fan Bus to the game Thur - students bring $15 for admission, lunch, and concession. Fan Bus will not return until around 4:30pm. Go Lady Owls!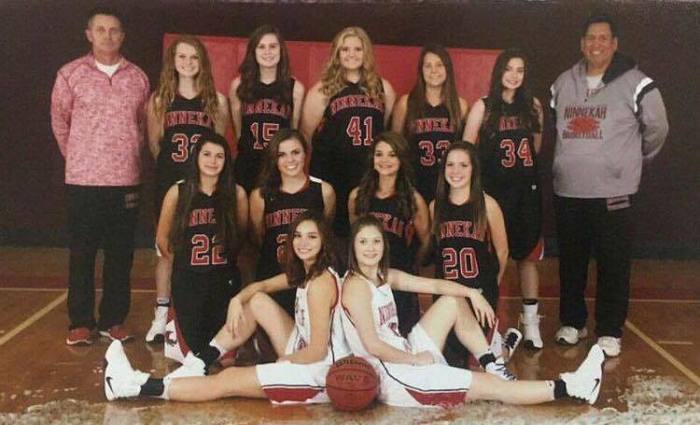 This is FFA Week! Annual Cake Auction & Calf Fry is tonight Tues 2/21 at 6:30pm. FFA activities this week at HS include: Wed - Fear Factor, Thur - Ag Olympics, and Fri Mr. FFA Pageant.

No School tomorrow, Mon 2/20, due to Professional Day. Classes will resume on Tues 2/21 as usual.

Congrats to Lady Owls HS Basketball team on winning the first game of Districts last night! They will play again tonight, Sat 2/18, at 6:30pm at Ninnekah. Come out and cheer them on!

HS Basketball Districts tonight, Fri 2/17, at Ninnekah! Girls vs Vanoss at 6:30pm, Boys vs Mangum at 8pm. Winners will play again Sat 2/18 at same times. Let's pack the house to support our Owls and Lady Owls!

Congrats to Ninnekah HS Archery Team for placing 5th yesterday at State! Also, Carma Tucker took 1st in the Elem Individual and Mackaby Carlile took 3rd in the MS Male Individual. Great job Owls!

Braum's ice cream will be sold to all students in the cafeteria tomorrow, Thur 2/16! The Senior class will be selling ice cream for $1 per dip during all lunch times, Elem through HS, so bring your money with you!

SW District Livestock show is Feb 15-17! Also, next week is National FFA Week! Our students work hard in our FFA/Ag programs, and they are entering their busiest time of year as they see the results of their efforts. Go Ninnekah!

Archery Going to State! HS & JH team will leave at 10:30am Wed 2/15, and Elem team will leave at 7am Thur 2/16. Good luck archers!

CORRECTION-Valentine's Deliveries: HS deliveries only go to Superintendent's Office. MS and Elem deliveries can be delivered to their buildings. This is for today only. Thank you!

Valentine's Deliveries: All MS and HS deliveries must go to Superintendent's Office. Elem deliveries can be delivered to their building. This is for today only. Thank you!

Join us for Senior Night tonight, 2/13, as NHS hosts Apache! Games begin at 6:30pm, and all 2017 Senior Athletes will be recognized between games.

Drive down to Rush Springs tonight Fri 2/10 at 6:30pm to cheer on our NHS Owls and Lady Owls in basketball! Also, mark your calendars for Senior Night on Monday 2/13 as we recognize all our Senior athletes at the games that night!

Home HS Basketball tonight, 2/7, vs Minco at 6:30pm. Come support our Owls and Lady Owls!

Ninnekah - Remember there is NO JH basketball game tonight, 2/6. Game originally scheduled was later changed and played in December. Have a great Monday!