Please read the following message from the Ninnekah Board of Education:
\r\n
Dear Ninnekah school family,
\r\n
After a thorough search process, we want you to be the first to know during Thursday night's special board meeting, our school board members approved the hire of Dr. Ashley Davis as our next superintendent. At the end of the school year, Dr. Davis, who is currently the superintendent for Drumright Public Schools, will succeed Interim Superintendent Mrs. Robyn Morse as our district leader.
\r\n
We appreciate Mrs. Morse's tremendous contribution to our district. In a short time, her leadership has corrected our district's direction for the future, while her fresh perspective has helped us through tough times and pressing deadlines.
\r\n
With the help from the Oklahoma State School Boards Association, the board selected Dr. Ashley Davis from a competitive pool of candidates. Thank you to all those who helped during the search. Your responses to the online community survey and your input from the focus groups were incredibly valuable as we navigated the search process and narrowed down candidates.
\r\n
Dr. Ashley Davis is a student-driven administrator with more than 25 years of experience in education, including superintendent of Drumright Public Schools, principal of Classen School of Advanced Studies, secondary curriculum coordinator for Yukon Public Schools and more. She has a proven track record of excellence in academic improvement and finance, and she works to provide students with every opportunity possible.
\r\n
As an effective communicator and leader, we are excited to work with Dr. Davis as she helps our district grow and come together for the betterment of our students, staff, teachers and community.
\r\n
OSSBA has helped facilitate superintendent searches across the state, working with other school board associations throughout the country to ensure a competitive candidate pool. The non-profit organization has partnered with several Oklahoma school districts of all sizes to perform superintendent searches, including El Reno, Cordell, Deer Creek and Woodland.
\r\n
Thank you again for your support of Ninnekah Public Schools. We are excited to have Dr. Ashley Davis join our Owl family.
\r\n
Sincerely,
\r\n
Members of the Ninnekah Board of Education\r\n
\r\n
Dustin Tate, President\r\n
\r\n
Delanie Berry, Vice President\r\n
\r\n
Diane Carroll, Clerk\r\n
\r\n
Adrienne Wenzel, Member\r\n
\r\n
Brock Perryman, Member\r\n
\r\n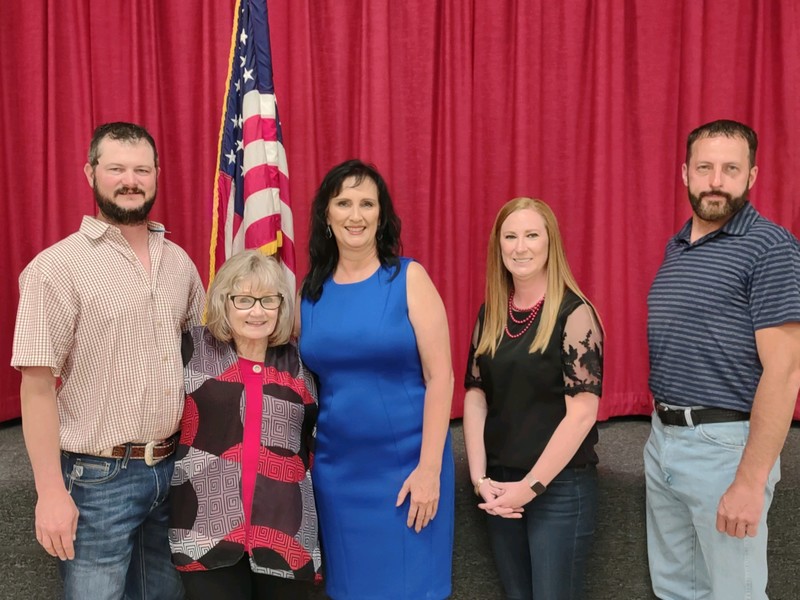 Pictured from left to right: Brock Perryman, Diane Carroll, Dr. Ashley Davis, Adrienne Wenzel, and Dustin Tate
\r\n
Link to Printable Message From the Ninnekah Board of Education
\r\n