The Ninnekah Envirothon Team took 1st place in the Oklahoma Envirothon competition which took place March 24, 2017 at the Sam Noble Foundation in Ardmore, OK. The Noble Foundation Academy will sponsor the team to travel to and compete in the international competition in Emmitsburg, Maryland, July 23-29, 2017.
"This Envirothon team was very dedicated and worked all school year to accomplish this goal," said Connie Taylor, NHS Science Instructor and Envirothon Team Coach. "Only two students had competed in the Envirothon before this year. Juggling school work, basketball, baseball, softball, FFA events, and Envirothon practice was required, as all members of the team are involved in these extra-curricular activities. This is very challenging. Their discipline and work ethic were determining factors this year. I am very proud of this team."
Members of the winning team from Ninnekah are, left to right:
Caden Smith, Kaylee Crutchfield, Kaylee Fitzpatrick, Dakota Dinsmore and Ethan Mann.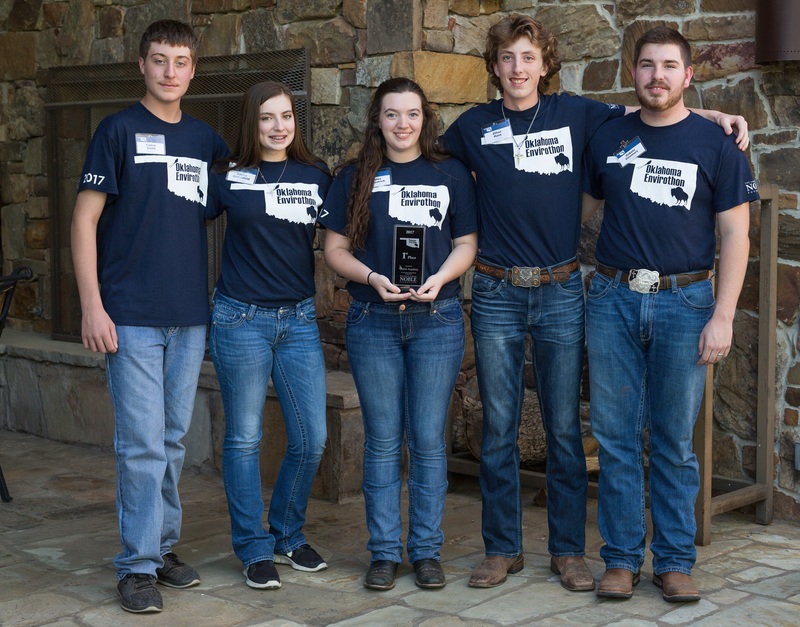 The Oklahoma Envirothon, part of an established North American program, is a way for students to learn about the environment, natural resources, conservation, and current issues which will affect this and future generations. The Envirothon combines in-class curriculum with hands-on field experiences, speaking, writing and research.
Each team takes a field test over four areas: aquatics, soils, wildlife, and forestry. In addition, the teams are given a fictitious scenario with a problem to solve using what they have learned about the four areas and the current year's special topic. From this scenario the students much research, write and illustrate an oral presentation that is from 13- 15 minutes long to be given before a panel of experts in the natural resources fields.
The field tests are very rigorous and require much studying and commitment from the students. They study all year to compete in this contest.
The contest is open to all public schools, large and small, non-traditional schools, and youth organizations. This year's schools included: Oklahoma School of Science and Math (with 2 teams entered), Southern Oklahoma Technology Center from Ardmore, Alva, Taloga (with 2 teams), Norman, and Ninnekah.
Great job to this team who set this goal and achieved it through hard work and dedication. This will be the second time Ninnekah has been represented by an Envirothon team at the international level. Coach Connie Taylor also took her 2010 team. Ninnekah High School is extremely proud of this program and hopes that its team has a wonderful experience as they compete this summer.