Good luck to all our Owls and Lady owls today, Mon 3/19! JH/HS Softball at Am-Po at 4:30, HS Baseball at Home at 4:30, and JH Baseball at Am-Po at 5:15. Go Owls!

Have a fun and safe Spring Break Ninnekah! Classes will resume on Monday, March 19th.

Reminders: P/T Conferences this week (refer to info sent out from each site/teacher, or call your child's specific site to inquire). No School Fri 3/9, then next week 3/12-3/16 is Spring Break!

Remember the Elem Penny Wars is extended to Fri 3/9! Class with most money raised gets pizza party, and all proceeds will be donated in support of Mrs. Lawler's family.

Elementary Spring & Class Pics are Tues 3/6! Bring forms (& money if purchasing class pics). At this time, we recommend only ordering directly through the school instead of ordering online through the company.

Baseball Change: Mon 3/5 at Rush Springs has been changed to 4:30 by the Home team.

Let's play ball! JH/HS Baseball games start at 4:00 at Rush Springs, and JH/HS Softball games start at 4:30 at Home against Central Marlow. Go to HS or MS page, then select Athletics menu for games. Spring athletics schedules are also available for download on HS and MS pages under Documents. Go Owls!

Baseball Update: The HS game Fri 3/2 at Riverside has be CANCELLED. Instead there will be a JH/HS Baseball Parent Meeting Fri 3/2 at 6:30 in the Middle School. Also, revised schedules for all spring sports will be made available in school offices and online as soon as possible.

Spring & Class Pics for Elem Pre-K thru 5th only on Tues 3/6. Class pics must be ordered on picture day at a cost of $12 each. No order is needed for individual spring pics, just choose a background - proofs of individual pics will be sent home for ordering later. Two picture forms are being sent home, however they can also be downloaded from the Elem Documents menu!

Change to earlier post: NHS Boys will play at 5:00 tomorrow, not 3:00. Games originally scheduled for Fri will be Sat, and those originally scheduled for Sat are moved to Monday.

Update: Regional games at Am-PO are cancelled for today 2/22. NHS Owls will play at 3:00 tomorrow, Fri 2/23. Friday's games are moved to Saturday.

Notification from OSSAA regarding NHS Boys Basketball team Regional Tourney game Thurs at Am-Po: Afternoon sessions for playoff games for Thurs, Feb. 22nd will be pushed back 2 hours to 3:30 for girls & 5:00 for boys. There will be single sessions at the sites. Friday's games will remain as scheduled...We will continue to monitor the weather & post any additional changes.

School has been cancelled tomorrow, Thurs, Feb 22nd.

School has been cancelled tomorrow, Wed, Feb 21st. Stay safe, Ninnekah!

The MS GT trip that was scheduled for tomorrow, 2/21, has been rescheduled to next Tuesday 2/27.

Night school classes at the HS are cancelled for tonight, Tue 2/20.

Annual FFA Auction & Calf Fry is tomorrow night, Tue 2/20, at 6:30. Remember to bring all cakes and other sale items by 5pm tomorrow!

Remember there will be No School on Monday 2/19, so enjoy the long weekend Ninnekah! Also, good luck to our NHS Basketball teams as they play Hollis in the District tourney at Mangum tonight! Go Owls!

The Ninnekah 7-8th Academic team is the number 1 seed in their Regional this Saturday at 11:00 in Dale. #GOOWLS! The Ninnekah Middle School Cheer squad has qualified for State and will compete Saturday, March 3rd for the 2018 Junior High Cheer State Championship at 8:30am at OBU in Shawnee! #GOOWLS. Take State! The Ninnekah 8-9th Academic team will compete in their regional on Tuesday, March 6th at 4:00 at Dale. Good luck Owls!

State Archery Champs! Both Ninnekah Elementary & Middle School took 1st place at the State Archery Meet yesterday! GO OWLS!

Come support our Senior Athletes at Senior Night tonight, Fri 2/9, at 6:00 in the gym! The HS Basketball teams will then play Rush Springs at 6:30. Also, school wide Father-Daughter Dance & Banquet is tomorrow, Sat 2/10, 6-9pm in the cafeteria!

Change! Alex is changing game times for today's games. Still playing 7/8 girls & boys but they will start at 5:30 instead of 4:30. They will run 12 minute running quarters. JH will start at 6:30.

SW District Livestock Show will be Feb 14-17, and the Schedule is now available! Visit our HS page, then News stories.

It's not too late to sign up for the school wide Father-Daughter Dance & Banquet Sat 2/10 6pm-9pm! If you missed the deadline, go ahead and RSVP to Mrs. Austin now if you can. You will also be allowed to pay at the door, even if you do not RSVP!

Senior Night for all Senior Athletes will be Fri 2/9 at 6:00 in the gym before the HS Basketball games against Rush Springs. Come out and support our Senior Owl Athletes!

HS Basketball games tonight, Tues 2/6, at Minco at 6:30. Also, make plans now to come out for Senior Night Fri 2/9 as we play against Rush Springs! Go Owls!

HS Class 2A Basketball Districts will be Feb 16-17 at Mangum with Hollis as the third team. Regionals will be Feb 22-24 at Am-Po, and Area will be Mar 1-3 at Chickasha. More info will be shared as it becomes available.

The NMS/JH basketball games at Alex tomorrow 2/5 are being moved to Thurs 2/8 starting at 4:30 with 7th-8th, followed by the JH. We will be playing in their new gym.

RSVP for Father-Daughter Dance by Monday Feb 5th! Download and print sign-up sheet from Middle School Documents menu!

HS Basketball games tonight 2/2 at Alex at 6:30! Go Owls!

8th-11th Grades Parent/Teacher/Student come-and-go-meeting with hot dog dinner tonight 1/31 from 4pm-7pm at Ninnekah High School! Pre-Enroll for next year, learn about Oklahoma Promise, and visit with teachers!

NJH 8-9th Academic team District at Ninnekah: Allen 110, Ninnekah 70 Ninnekah 170, Konawa 90 District Runner-Ups! They will compete in Regionals on Feb. 10 at Dale. Go Owls!

We feel as though Ninnekah has a great and supportive fan base. We always want to encourage parents and fans to be positive in their statements and refrain from sending any message that would take away from our great reputation. Any message containing cuss words, whether actual or implied, should not be displayed via students, fans, or parents. Thank you for your continued support and understanding in this matter. Go OWLS!

Archery Reminder : Practice tomorrow 01/30/18 is at 4:00 PM for Elem and 5:00 PM for Jr. High and High School.

HS Basketball Tues 1/30 is Varsity only at 6:30 at Home vs Cement. Thurs 2/1 games will be 7-8 Girls at 5:30 followed by JH Girls & JH Boys. There will be NO 7-8 Boys game.

Only 2 JH basketball games at Cement tomorrow, Mon 1/29, beginning at 6:30. There are no early games.

Two nights of HS Basketball! Tonight Fri 1/26 at Verden, and tomorrow Sat 1/27 at home vs Union City. Mini-Owls will perform Sat night as well. Support our Ninnekah Owls this weekend!

JH Homecoming is tonight, Thur 1/25! 7-8 Girls and Boys games will start at 4:30, followed by JH Girls and Boys. Homecoming festivities will be at halftime of the JH Boys final game.

The Ninnekah Basketball Booster Club will be selling Walking Tacos with water for $5 on JH Homecoming night Thur 1/25! Come out tomorrow and support your JH Ninnekah Owls!

NHS Basketball tonight, Tues 1/23, at 6:30 at Sterling. Go Owls!

Grades 8-11: Special parent/teacher meeting and hot dog dinner Wed. 1/31, 4-7pm, at NHS. Come and go as you pre-Enroll, discuss Oklahoma Promise (college tuition assistance), and meet with individual teachers!

JH basketball teams play at home tonight, Mon 1/22, against Minco starting at 4:30. Remember that JH Homecoming will be this coming Thursday night 1/25!

FFA will be selling Blue & Gold sausage, bacon, & chicken strips until Fri 1/26. Contact any FFA member or Mr. Ballard to order!

HS Grady County tourney begins tonight, Mon 1/15, at Dibble. Girls play at 4:00, Boys at 5:20. Go Owls!

Archery practice cancelled tonight Mon 1/15.

Good luck to NJH Owls and Lady Owls playing in both Grady Co and Tipton basketball tourneys tonight! Tomorrow, Fri 1/12, will be home HS games against Cyril at 6:30. Also, HS Grady Co Tourney is coming up next week at Dibble!

JH Owls & Lady Owls won Monday to advance to the JH Grady Co Tourney Semi-Finals at Minco Th 1/11 6:30 girls, 7:30 boys. The 7th-8th Boys are playing in Tipton Tourney Th 1/11 at 5:10. Go Ninnekah!

Mon 1/1 New Year's Day; Tues 1/2 Professional Day (No School), with HS Varsity basketball at Wanette moved to 4:00; Wed 1/3 Students return to begin 2nd Semester!

Elem Winter Wonderland tomorrow night, Tue 12/12: walk the halls of Elementary at 5:30, then Music Program at 6:30 in Gym.

JH Basketball games at Dibble tonight beginning at 4:30.

NHS Boys will play in the Binger-Oney Basketball tourney again tomorrow, Sat 12/9, at 2:45. Go Owls!

Tomorrow Fri 12/8: MS Reward Trip 8:30-3:15, Binger-Oney HS Tourney Girls 11:00 and Boys 12:20.

Archery practice is cancelled for tomorrow, Thurs 12/7.

NHS will take student fan bus to Binger-Oney HS basketball tourney tomorrow, Th 12/7. Must have signed permission slip. Bring approx $10 ($3 admission + food). Bus will leave 10:15am, will not return until after 4:00pm. Boys play at 12:20, Girls at 1:40.

8th grade will go to CVTC for Career Day from 9am-10:30am tomorrow, Wed 12/6.

Elem will take Santa Owl pics tomorrow afternoon, Wed 12/6. Cost is $5 for 4x6.

7th Grade Girls won last night 30-12! They will play in Consolation Finals Sat 12/2 at 10am at Dibble. Way to go Lady Owls!

Tonight, Fri 12/1, NHS takes on Dibble at Home starting at 5pm with JV Boys, followed by Varisty Girls and Boys at 6:30. No JV Girls tonight. Mini Owl Mascots will perform during Girls halftime, with Mini Owl Cheerleaders during Varsity Boys halftime. Go Owls!

Good luck to all our basketball players tonight, Thur 11/30! 7th Girls & Boys continue Dibble tourney at 4:00 & 5:00, and JH teams play Verden at home tonight beginning at 6:30.

NHS vs Alex basketball tonight, Tues 11/28, at Ninnekah! Boys JV begins at 5:00, followed by HS Varsity Girls & Boys beginning at 6:30. (There will be no Girls JV tonight.) Go Owls!

Two Mini Owl Camps for 2017-18, with the first starting Monday 11/27! Sign-up sheets were sent home with students Pre-K thru 5th on Friday, but are also available to download and print from Elem page, then Menu, then Documents.

There will be No School next week, Nov 20-24, for Thanksgiving Break. Classes will resume on Monday, Nov 27th. Enjoy the long break!

Today, Fri 11/17: 5th/6th Tourney continues at Middleberg with Girls at 3:00pm and Boys at 4:00pm. HS plays at Home tonight vs Central Marlow, with JV Girls & Boys beginning at 4:30, followed by Varsity teams at 6:30. Go Ninnekah!

Today Thurs 11/16 at Middleberg Tournament, the 5th/6th Girls will play at 4:00, then the 5th/6th Boys at 7:00. Go Owls!

Basketball games at Verden tomorrow, Thurs 11/16! 7th-8th Girls & Boys will play at 4:30, followed by the JH Girls & Boys at 6:30. Go Owls!

Don't miss NHS Owls and Lady Owls as they travel to Cement to play basketball tonight 11/14 at 6:30 pm. Go Ninnekah!

7th & 8th Girls & Boys Basketball games today at 4:30 at Minco, followed by JH Girls & Boys games. Go Ninnekah!

NHS Homecoming tonight 11/10 at 6:00! Go Owls!

NHS Homecoming tomorrow, Fri 11/10, at 6:00pm, with HS Girls basketball at 6:30, followed by HS Boys at 7:30! Go Owls!

It's Basketball season! Download the 2017-18 JH and HS schedules from either the HS or MS page on the Documents Menu under Athletic Schedules! Each game is also listed on the Athletics menus on HS and MS pages.

Meet the Owls Tonight 11/3 at 6:00!

Little League Basketball for 1st-6th grades will have mandatory parent meeting Sun 11/5 at 2pm. Can still sign up at the meeting! Contact Coach Price or Coach Akins if questions.

Meet the Owls Night is Fri 11/3 at 6:00pm. Brief scrimmages by basketball teams from 5th gr thru HS, and cheer performances. $1 admission, $5 for walking taco meal, plus fan gear available for purchase. See you there!

Elem Fall Festival is tonight 10/27, 5:30pm-8pm in the cafeteria. Games, food, and even a haunted house! (NHS Jr Class Haunted House is in Ag building 5:30-8 or will stay open later if people are still coming.) Come out and support our school and students!

Change: Mon 10/30 there will only be 2 games for 5th-6th at 5:30 against Cement. Thurs 11/2 only 7th-8th will play 2 games at 5:30 against Pioneer.


Ninnekah Schools completed its Hazardous Material Drill by evacuating over 500 people by buses to the sports complex in approx. 10 minutes. A full report will be available soon.

Ninnekah Schools will have a Hazardous Material Drill tomorrow, Wed 10/25, that will include a campus-wide evacuation. Please do not be alarmed, as we will be practicing our emergency procedures in an effort to better prepare for an actual emergency.

5th & 6th Gr Basketball tonight at Verden will be all girls first at 4:30, followed by "B" game boys, then all boys. Teams will leave at 3:30 from the gym.

5th & 6th Basketball Tourney at AmPo this week! Teams will leave from the gym tonight 10/23 at 6pm. Girls play at 7, Boys at 8.

Today 10/17 is the last day of school this week, with Parent/Teacher Conferences this evening. No School Wed - Fri, 10/18-10/20. Have a great Fall Break!

Parent/Teacher Conferences and Fall Break coming up next week! Also, start planning for NHS Homecoming Fri Nov 10th at 6pm with games beginning at 6:30pm.

Yearbook Picture Day has changed! It will now be Friday Oct 13th. Order form packets will be sent home as soon as we receive them.

5th & 6th gr basketball cancelled for tonight, 9/29 at Maysville

Elem Book Fair Family Night tonight, Thur 9/28, 5:30-7:30.

4H Meeting Cancelled for today, Thur 9/28.

We wear Blue on Tues 9/26 for Back the Blue Day to support our police officers, and especially those recently injured. Thank you for your service!

HS Districts: HS Baseball will play Th 9/21 at 3:00 and 5:00 at Fletcher, to continue Fri 9/22 at 3:00. HS Softball will play Th 9/21 at 11:00 at Carnegie, to continue Fri 9/22 at 1:00. Good luck!

NJH Baseball game will still be played today 9/18 here at 4pm.

Car Wash Fundraiser Sat Sept 16th at Valero at HWY 81 & HWY 277, 9 AM - Noon. Money goes to support Basketball teams for all grades.

Letter Jackets can be ordered by 9th graders & up, Tues 9/12 at 1:00 at HS. $150 deposit due at time of order, checks or cash only. Make checks payable to Athlon II. (No credit cards) Patches & bars can also be ordered then.

The JH Baseball schedule has also changed: Today 9/5 at Binger at 5:00. Thur 9/7 vs Big Pasture at home at 4:30.

The HS baseball schedule has changed this week: Tues, Sept 5 at Fletcher 4:30 vs Fletcher & Ft. Cobb Thur, Sept 7 vs Big Pasture 4:30 at home. Fri, Sept 8 at Santa Fe South 4:30 (5000 S. Santa Fe Ave, OKC next to big white building).

Softball Change: HS will play first, then JH, today, Fri 9/1, at home at 4:30.

HS Baseball will play Friday at 4:30 at Riverside. They will play Riverside first & then Union City at 6:30.

"Meet the Owls" night has been postponed. The baseball & softball fields are being sprayed for Army Worms & cannot be used today &/or Thurs.

Cancelled: JH Baseball cancelled today 8/29. Today will be HS only at 4:30 at Union City.

Cancelled: HS Baseball and HS Softball games cancelled for today, Fri 8/25. Softball will play at 12:30 tomorrow, Sat 8/26. Baseball TBA.

Students receiving JOM school supplies must have their CDIB on file. Any student without a CDIB will be placed at the bottom of the list. Thank you, Chuck Yackeyonney, JOM Coordinator

NMS 7th or 8th gr parents: There will be a parent meeting at 6pm Tues 8/22 in Mrs. Austin's room for info for any student interested in traveling to Washington, D.C.

Cancelled: JH Baseball game today 8/21 against Santa Fe South has been cancelled.

First day of school tomorrow Aug 17th, first bell 8:15am! Vo-tech students report to HS for first day.

Correction: MS students do not need to purchase eclipse glasses due to glasses already donated to Middle School! Thank you!

HS and MS students: Need eye glasses for viewing total solar eclipse Mon 8/21! Glasses can be purchased at Wal-Mart for $1.

Open House tonight 8/15, 5-6 pm, for Elem and Middle School!

School starts one week from today! Are you ready for August 17th?

Athletic & bus driver physicals offered today 8/1 at NHS, 5pm-7pm. Cost will be $25 payable to Ludwell Chiropractic (school pays for drivers).

Don't forget to enroll! All buildings enrolling today Aug 1st, 4pm - 7pm.

Enroll for Elem & MS 7/31 9am-3pm, Elem & MS & HS 8/1 4pm-7pm. All students must enroll. New students, bring proof of address.

Elem Supply List now available! Download PDF from Elem page News or Documents, or can pick up in Elem office.

Change: Fast Pitch Aug 8 will be HS only at 2pm at Fletcher, vs Fletcher & Mangum.

JH/HS Fast Pitch practice has started at 9AM each morning! Contact Coach Taliaferro at (405)834-9908.

Ninnekah goes back to school Aug 17th! See News story for calendar.

Ninnekah Schools Campus will be closed for 2 weeks. Offices will reopen July 10th.

Another school year has come to an end. Join us as we say goodbye to our 2017 NHS graduating class tomorrow night, Tues May 9th, 7:00, at USAO.

Only one day of school left! Thur May 4th, Kindergarten Graduation will begin at 9am in the gym, followed by Elem Awards Assembly.

Congrats to Dalton Wenzel for qualifying for 2A HS Boys Golf State tournament! Good luck next week!

Only 4 more days of school! Remember Baccalaureate is tonight at 6pm. Also, catch up on our recent News articles and pics! Just select a school, then go to News. Visit each page to see them all!

HS Envirothon team interview to air on Kool Conversation at 8:00am Sat 4/29! Tune in tomorrow to Chickasha's Kool 105.5 radio station!

Fri 4/28: HS Fun Day will begin at 9:00am in the gym. CV-Tech students can go directly to HS. Elem Ninnekah History Day will take place all day - outside if weather permits, or inside if rain.

Cancelled: All Baseball and Softball games are cancelled today 4/13 due to rain. Remember there is No School tomorrow, Fri 4/14. Have a great weekend Ninnekah!

HS Baseball has added a game on Tues 4/18 at Chickasha at 4:30. This will be a single 7-inning game.

Elem Pre-Enroll 8:30-3:30 today and tomorrow (4/5-4/6) reminder! If new, must bring proof of residency, shot record, and birth certificate.

NHS Envirothon Bake Sale tomorrow 4/5 during HS/MS lunch in HS home-ec room! The Ninnekah Envirothon team won 1st place at state and are preparing for the international competition this summer in Maryland! Read more in the News section on our main page of website or app!

JH Softball will play in the Grady Co Tourn at the Chickasha Complex at 11am tomorrow 3/31. The bus will leave from the school at 10am. Also, JH & HS Baseball teams play at Cement at 1pm tomorrow. The bus will leave from the baseball field at noon.

Thur 3/30 is the last day for the Elem Book Fair, with Family Night from 5:30-7:30. Also, there is no JH Baseball game, and HS Baseball is changed to Home vs Comanche at 4:30. Fri 3/31 will be No School (snow day).

CHANGE: HS/JH Baseball tonight 3/28 vs Cyril at home moved up to 3:30. The HS will play first.

CHANGE: JH/HS Softball at Minco today 3/28 moved up to 4:00pm, with the bus leaving at 2:30.

Good luck to all of our Owls today at Envirothon competition, FFA CDE contest, HS Baseball, and HS Track! Also, remember that the Elem Bookfair is going on now!

HS Baseball CHANGE: Today's game at Union City is MOVED to Fri 3/24 at 10am at Ninnekah!

Elem Book Fair will be during school days Th 3/23 - Th 3/30, 8:30-3:00. The event will wrap up with Family Night 5:30-7:30 on 3/30. Start planning now to support student reading and help our school!

Today's events for 3/21: MS Boys Golf are at Ft Cobb Golf Course, JH Track are at Velma/Alma for first event of season, HS/JH Baseball play at Minco at 4:30, and JH/HS Softball vs Bray-Doyle at 4:30 at home.

All HS Juniors will be taking ACT at HS tomorrow morning, 3/21. Juniors will not attend CVTech, but will instead report directly to HS building.

We are back in the swing of things today 3/20! HS Softball Dibble Festival at Chickasha Sports Complex today at 3:40 and 6:00. Also, HS/JH Baseball vs Cement at Ninnekah at 4:30.

Enjoy the final hours of your Spring Break, because tomorrow it will be back to school! We look forward to seeing you!

Update: The HS Baseball game Mon 3/13 will be at Ninnekah at 12:00.

HS Baseball game has been added to the schedule for Mon 3/13 at 12:00 for both Varsity and JV.

Parent/Teacher Conferences today, Th 3/9. HS Boys Golf team is at Lincoln Park Course in OKC. Also HS/JH Baseball at Cyril at 4:30, and JH/HS Softball at Carnegie at 4:30. Go Owls!

JH/HS Slow Pitch Softball begins its season today, Tue 3/7, at 4:30 at Home vs Dibble. HS Baseball game also today at 4:30 at Amber. Tomorrow Wed 3/8 is Ninnekah's Got Talent for HS & MS at 1pm for $1 entry fee. Also, Oklahoma Youth Expo is 3/8-3/19.

NHS Boys Golf team began their season today in a tournament at Purcell Golf Course. JH Baseball game today 3/6 at 4:30 vs Am-Po. Also, remember Parent/Teacher conferences are this week (contact building site directly if questions), with No School Fri 3/10 for an early start to Spring Break! Have a great week Ninnekah!

First HS/JH Spring Baseball games are today at Wayne at 4:30pm! Go Owls!

Mark your calendars: There will be No School on Fri 3/10, followed by Spring Break 3/13-3/17! (See Events on district page) Also, the March Cafeteria Menu is now available both on our app and website! Just go to any page, click Menu, and find Cafeteria for quick reference. A picture of the entire menu can be found on district page in Documents.

Events this week: Grady County Stock Show is going on 27th, 28th, 1st, & 2nd in Chickasha. Wed 3/1 End of 3rd Quarter, and FFA Blue & Gold money is due. Fri 3/3 MS Reward Trip. Also, HS/JH Spring Baseball teams begin their season at Wayne. Have a great week, Ninnekah!

Tomorrow, Sat 2/25, will be the Ninnekah Local Livestock Show and 6th-7th Gr Academic Regionals. Also, if the Lady Owls win in basketball tonight, they will play again Sat afternoon in Latta. Good luck to all of the students who are representing Ninnekah this weekend!

NHS Lady Owls are moving on in Regionals tonight, Fri 2/24, at 6:30pm at Latta! HS Fan Bus leaves at 4:15. Bring $15 ($5 admission plus food). Please send signed note allowing your student to ride.

Congrats to NHS Lady Owls basketball in their win today against Walters! It was a close game all the way, with a final score of 34-33! Their next game in Regionals will be tomorrow night, Fri 2/24, 6:30pm, at Latta. Go Ninnekah!

Congratulations to the NHS Lady Owls as they move on to Regionals! Girls vs Walters Thur 2/23, 1:30pm at Walters. Pep Assembly will be held Wed, and HS will take student Fan Bus to the game Thur - students bring $15 for admission, lunch, and concession. Fan Bus will not return until around 4:30pm. Go Lady Owls!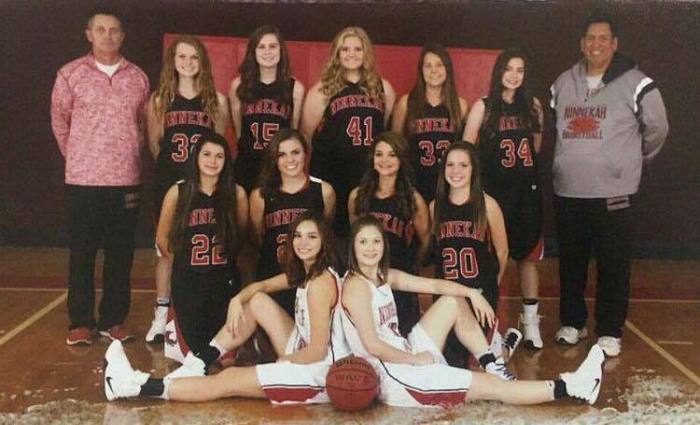 This is FFA Week! Annual Cake Auction & Calf Fry is tonight Tues 2/21 at 6:30pm. FFA activities this week at HS include: Wed - Fear Factor, Thur - Ag Olympics, and Fri Mr. FFA Pageant.

No School tomorrow, Mon 2/20, due to Professional Day. Classes will resume on Tues 2/21 as usual.

Congrats to Lady Owls HS Basketball team on winning the first game of Districts last night! They will play again tonight, Sat 2/18, at 6:30pm at Ninnekah. Come out and cheer them on!

HS Basketball Districts tonight, Fri 2/17, at Ninnekah! Girls vs Vanoss at 6:30pm, Boys vs Mangum at 8pm. Winners will play again Sat 2/18 at same times. Let's pack the house to support our Owls and Lady Owls!

Congrats to Ninnekah HS Archery Team for placing 5th yesterday at State! Also, Carma Tucker took 1st in the Elem Individual and Mackaby Carlile took 3rd in the MS Male Individual. Great job Owls!

Braum's ice cream will be sold to all students in the cafeteria tomorrow, Thur 2/16! The Senior class will be selling ice cream for $1 per dip during all lunch times, Elem through HS, so bring your money with you!

SW District Livestock show is Feb 15-17! Also, next week is National FFA Week! Our students work hard in our FFA/Ag programs, and they are entering their busiest time of year as they see the results of their efforts. Go Ninnekah!

Archery Going to State! HS & JH team will leave at 10:30am Wed 2/15, and Elem team will leave at 7am Thur 2/16. Good luck archers!

CORRECTION-Valentine's Deliveries: HS deliveries only go to Superintendent's Office. MS and Elem deliveries can be delivered to their buildings. This is for today only. Thank you!

Valentine's Deliveries: All MS and HS deliveries must go to Superintendent's Office. Elem deliveries can be delivered to their building. This is for today only. Thank you!

Join us for Senior Night tonight, 2/13, as NHS hosts Apache! Games begin at 6:30pm, and all 2017 Senior Athletes will be recognized between games.

Drive down to Rush Springs tonight Fri 2/10 at 6:30pm to cheer on our NHS Owls and Lady Owls in basketball! Also, mark your calendars for Senior Night on Monday 2/13 as we recognize all our Senior athletes at the games that night!

Home HS Basketball tonight, 2/7, vs Minco at 6:30pm. Come support our Owls and Lady Owls!

Ninnekah - Remember there is NO JH basketball game tonight, 2/6. Game originally scheduled was later changed and played in December. Have a great Monday!

Come watch both JH and HS basketball at Home vs Alex tonight! JH begins at 4:30pm. HS Girls play at 6:30pm, with Mini Owl Mascots performing during halftime. HS Boys play at 7:30pm, with Mini Owl Cheerleaders performing during halftime.

Today is last day of Mini Owl Camp! Mini Owls will perform tomorrow night, Fri 2/3, during the HS basketball games beginning at 6:30pm!

Last 7th-8th basketball game of season tonight, Th 2/2 at 5:30pm at Pioneer. Final JH game of the season will be tomorrow, Fri 2/3, at Home vs Alex at 4:30pm, followed by HS games beginning at 6:30pm. Go Owls!

OBI Blood Drive tomorrow, Wed 2/1, at NHS Chemistry Lab from 9am-3pm. Photo ID required. Must be 16 or older to donate. Parent signature required for age 16 only. Adults welcome. Come give blood and save a life!

HS Basketball games tonight, Tu 1/31, at 6:30pm at Cement! Go Ninnekah!

It's another busy week! JH Homecoming is Mon 1/30, with 7th-8th Boys at 5pm, JH Boys at 6:30, Homecoming, then JH Girls. Also, Mini Owl Camp starts Mon 3:30-5:00pm.

HS Dance tonight is CANCELLED! Originally, STUCO had planned a Homecoming Dance, but are now planning something at a later date. HS Homecoming is still as scheduled!

Spirit Day is tomorrow, Fri 1/27! Everyone wear Red and White! Parade will be at 1:00, then Pep Assembly. Homecoming will be between games, with boys playing first at 6:30pm! Come out and show your support!

JH Basketball games at Rush Springs tonight, Thur 1/26, beginning at 4:30pm! Go Ninnekah!

HS and MS: Dynamic Duo is the theme for Wed 1/25! Dress up as twins!

HS Basketball tonight, 1/24, at Home vs Sterling! Games begin at 6:30pm. Come on out and show your support!

MS and HS: Career Day is the theme for Tues 1/24! Dress for your future job!

JH Basketball games at Minco tonight beginning at 4:30pm. Go Owls!

Spirit Week is 1/23-1/27! MS and HS students will have dress-up theme days all week. Monday is Fashion Disaster - mismatched clothes, crazy hair!

Archery Practice Sat 1/21, 9-12 for all age groups!

More Grady Co Tourney: HS Boys won last night and will play again Sat 1/21 at 2:20 for Consolation. HS Girls play tonight Fri 1/20 at 6:40. If the girls win, they will also play Sat at 1:00 for Consolation. Go to Am-Po and show your support! Go Ninnekah!

Grady Co Tourney continues tonight, Th 1/19 at 5:20pm as NHS Boys take on Rush Springs. Tomorrow, Fri 1/20 at 6:40pm, NHS Girls will take on Alex. Come over to Am-Po to support our teams!

Mini Owl Camp (cheer or mascot) for Pre-K - 5th: Money and permission slips due back to school by tomorrow, Fri 1/20!

HS Grady County Tournament all week, Jan 16-21, at Am-Po! NHS Boys vs Minco tonight, Mon 1/16, at 8pm. NHS Girls vs Rush Springs tomorrow, Tues 1/17, at 4pm. Good luck Ninnekah! (Brackets are in HS Documents)

Reminder: Monday 1/16 is a regularly scheduled class day. Ninnekah WILL have school as planned.

Reminder: Monday 1/16 is a regularly scheduled class day. Ninnekah WILL have school tomorrow as planned.

JH Grady Co Tourney games scheduled for Sat 1/14 have been moved to Tues 1/17, with JH Boys at 11:15am, and JH Girls playing in championship game at 12:30pm.

School is Cancelled for tomorrow, Fri 1/13. Stay home and stay safe, Ninnekah!

HS games at Cyril for tomorrow, Fri 1/13, have been cancelled.

JH Grady Co Tourney continues tonight, Th 1/12, at Dibble! Girls at 6:30pm and Boys at 7:45pm. Good luck Ninnekah!

Archery Practice for Sat 1/14 is cancelled. Practice today will be as scheduled.

HS basketball games Fri 1/13 are moved to 4:30pm at Cyril if weather permits. Final decision will be made by 2pm tomorrow. If no school, then no game.

Mark your calendars for Mini-Cheer Clinic Jan 30, 31, & Feb 2, with performance Feb 3rd! Watch for notes sent home with Elementary students, as well as future postings for more information!

Archery Meet tomorrow, Wed Jan 11th, 9:30am at Verden. Bus will leave at 8:45am.

Both the JH Girls and Boys won their first games in the JH Grady Co. Tourney last night and will go on to play Thursday, 1/12. Girls will play Dibble at 6:30, and the Boys will play at 7:45 in the Dibble HS Gym. Go owls!

Congratulations to NHS Boys basketball team for placing 2nd in the Longhorn Classic last night!

Today, Mon Jan 9th: At Alex, HS Girls play at 12:40 for Consolation, HS boys play at 7:20 in Championship game at Longhorn Classic! The JH Grady Co Tourney is at Dibble this week - JH Boys moved up to 2:45, then JH Girls at 6:30. Also, 7th & 8th Boys are playing at Tipton at 5:10 in another tourney. Good luck to all of our athletes today! (Brackets can be found under school site in documents.)

NHS basketball teams will continue in the Longhorn Classic on Monday Jan 9th! Girls will play Gracemont at 12:40 for Consolation, and the boys will play in the Championship game that night! (Time TBA) Great job Ninnekah! JH Grady Co Tournament also starts Monday at Dibble, so get ready for another busy week!

Sat Jan 7th Archery practice is cancelled.

Archery Practice will be held Thurs 1/5 - Elem at 5pm, JH & HS at 6pm. Saturday 1/7 practices times to be announced. January Archery schedule is available on HS, MS, and Elem pages in Documents, then Athletics Schedules.

Happy New Year, Ninnekah! Great things are happening, so stay connected! Inside the school app, go to the Settings Menu. Set Default School to Ninnekah Public Schools (so your app will automatically open here). Make sure your Notifications are turned on, then select each of the building locations that you want to receive notifications from, including "Ninnekah Schools" for district-wide notifications.

Ninnekah Schools campus is now closed for Winter Break. Mon Jan 2nd is a Professional Day (teachers only). Students will report for regular classes on Tues Jan 3rd. Have a safe and Merry Christmas and a Happy New Year!

White Out Cancer Day Th 12/15! Today we wear white to support Marion Brown who is currently battling lung cancer. JH games begin at 4pm, with Pulled Pork Fundraiser also at 4pm in the Little Gym - to go bags will be ready to take over to the game. HS games begin at 6:30pm. Tomorrow is the last day of school this year!

Congratulations to NJH basketball teams on their wins today against Dibble! Tomorrow, Wed 12/14, is the last day to pre-order Ribbon Flyers to be displayed at the White Out Cancer games on Thursday (can also purchase at the game). HS students - your permission slips for the Reward trip are also due.

It's a busy week! Keep up on our website or app - just select a school site from the top right, then go to the Events Menu on the left! CHANGE: White Out Cancer Games will begin with JH at 4pm instead of 4:30. T 12/13 Attend JH game at 1pm and HS money due for Reward Trip; W 12/14 HS permission slips due for Reward Trip; Th 12/15 HS Reward Trip, then 4pm MS Pulled Pork Fundraiser and White Out Cancer Games begin, and 7pm Board Meeting; F 12/16 Extreme Animals (MS 10am, HS 11am), and NMS Winter Dance at 6pm.

Reminder: Students will be allowed to attend NJH basketball game tomorrow, Tues 12/13, at 1:00pm in the gym. MS and HS students will be $1 to enter. Elem students will attend for free. Concession stand will be available, so bring extra money for snacks!

Upcoming Events: 12/13 Students attend NJH basketball game at 1:00pm (JH & HS students - $1 entry, Elem will attend for free); Also 12/13 Money due for HS Reward Trip; 12/14 NMS Odd Hour Semester Tests and Permission Slips due for HS Reward Trip; 12/15 NMS Even Hour Semester Tests and HS Reward Trip to (must be eligible to attend); Also 12/15 White Out Cancer Basketball Games - JH at 4:30pm and HS at 6:30pm; 12/16 Extreme Animal Adventure (MS 10am-11am, HS 11am-12pm) and End of First Semester

Elem students can have their pictures taken with Santa Owl on Friday, Dec 9th! Please send $2 with your child that day to order a 4x6 photo to be sent home next week. Notes are going home with students today. Thank you Santa Owl!
http://5il.co/rl6
http://5il.co/rl7s


NHS basketball teams are playing in the Geronimo Old School Classic tourney Thur 12/8 - Sat 12/10. Girls play Thur at 10:40am, Boys will follow at 12:00pm. Brackets can be found in the HS Documents under Athletic Schedules.

Elem Deck the Halls is tomorrow Thur Dec 8th! Visit our Elem building at 5:30pm to enjoy cocoa, cookies, and student artwork. At 6:20pm, go to gymnasium where students take their places for the Christmas music program at 6:30pm.

No Archery Practice tomorrow, Thur Dec 8th, due to Elem Christmas Program. Archery Shirt money and orders are due Friday Dec 9th!

Drive up to Union City tonight, Tues Dec 6th, and cheer on our NHS Owls and Lady Owls in basketball! Games begin at 6:30pm.

Remember to turn in White Out Cancer t-shirt orders tomorrow! (Ribbon flyer orders will still be taken until Wed. Dec. 14th.)

Events this week: M 12/5 JH basketball, T 12/6 HS College Tours & HS basketball, W 12/7 8th gr Career Day at CVTC, Th 12/8 Elem Deck the Halls and Christmas Program, 12/8-12/10 Geronimo HS basketball tourney, F 12/9 MS Reward Trip to HeyDays. For more details, select specific school site on webpage or app, then select Events calendar! For sports, choose the Athletics menu for your specific site, and then select the specific sport.

Changes for Monday Dec 5th: There will be NO 7th-8th Girls game tonight. Games will start with 7th-8th Boys at 5:30pm, followed by regular JH games at 6:30pm.

Mark your calendars for White Out Cancer games Thurs Dec 15th. T-shirts on sale now until Tues Dec 6th. Ribbon Flyers can be ordered until Wed Dec 14th. Order forms available at all building sites, or download from app or website. Just see our News story on our district page!

Ninnekah 7th Grade Girls will be playing for 3rd place in the Dibble Tourney on Sat Dec 3rd at 10:00am in the Dibble HS Gym. Good luck Lady Owls!

NHS Owls and Lady Owls are traveling to Dibble tonight, Fri Nov 2nd. Games start at 6:30pm, so make the drive and show your support!

7th Grade Dibble Tourney continues tonight, Thurs Dec 1st, with the girls at 6pm and the boys at 7pm. Also, the JH girls and boys teams will play tonight at Verden at 6:30pm. Good luck owls and lady owls!

Watch NHS Owls and Lady Owls take on the Alex Longhorns tonight, Tues Nov 29th, at Alex! Games start at 6:30pm. Let's go Ninnekah!

Multiple opportunities to support our students tonight, Mon Nov 28th! Dibble 7th Grade Tourney begins with our 7th Girls at 6:00pm, 7th Boys at 7:00pm. Also, the JH teams will be playing at Alex tonight starting at 6:30pm. Welcome back owls!

Drive over to Central Marlow and support our NHS Owls and Lady Owls tonight, Fri Nov. 18th, at 6:30pm!

Come out and watch our NHS Owls and Lady Owls basketball as they defend our home court against the Cement Bulldogs tonight, Tues Nov 15th, at 6:30pm!

Remember Tues Nov 15th is Picture Retake Day, as well as Athletic and Organizational pictures!

Come cheer on our JH Basketball teams as they host Cyril tonight, Mon Nov 14th! The 7th & 8th grade games start at 4:30pm, with the JH games after that! Go owls!

Make the drive over to Geronimo to cheer on our NHS Owls and Lady Owls basketball teams tonight, Nov 11th, at 6:30pm! Go Owls!

Come cheer on our JH Basketball teams as they host Cyril! Tonight, Thur Nov 10th, the 7th & 8th grade games start at 4:30pm, with the JH games after that!

Come out and watch our NHS Owls and Lady Owls play their first basketball game of the season tonight, Nov 8th, at 6:30pm! Ninnekah will be hosting the Amber-Pocasset Panthers.

Come on over to Am-Po tonight to cheer on our JH Basketball teams for their first game of the season! Tonight, Mon Nov 7th, the 7th & 8th grade games start at 4:30pm, followed by the JH games after that!

A Neon Dance will be held for 9th-12th grade students on Fri Nov 4th, 8pm-10pm, in the school cafeteria. Pizza, snacks, and drinks will be provided, and the cost to attend is $5. Thank you to the HS PTO for hosting this event!

Come out to the Fall Festival on Friday Oct 28th, 5:30pm-8:30pm in the Cafeteria! There will be games, indian tacos, and even a haunted house across the street in the Ag Barn! Join in the fun!

Have a great Fall Break Ninnekah! (No School on Wed Oct.19th - Fri Oct. 21st)

Blood Drive today, Thursday, Oct 6th, 9:30am - 2:30pm, in the HS Chemistry Lab. Everyone is welcome! Please call Connie Taylor at the HS at (405)224-4299 for more information.

Elem Book Fair is still going on through Friday, 8:30am-3:00pm! Also, don't forget about family night Thursday 9/29, 5:30pm-7:30pm!

Big Day tomorrow, Tues 9/27! Yearbook Picture Day (bring money and forms), Elem Art Extravaganza at 5:30pm, and FFA Auction at 6:30pm!

First Ninnekah Basketball Booster Club meeting tonight, Mon. 9/26, at 6pm!

Basketball Booster Club Forming! For more information, visit the Ninnekah Schools website or app and choose the News Menu.

Yearbook Picture Day is Tues Sept 27th! Order forms are available for download - just go to our main Ninnekah Schools page and select the Documents Menu.

Elem Book Fair has started! On school days from 8:30am-3:00pm, 9/22-9/30, plus family night on Thurs 9/29. See you there!

Regional Cheer Competition today 9/17 at noon! Come out to support NHS Cheer Squad at Chickasha High School Activity Center! Admission is $5 for adults and students.

Native American students - enroll in JOM now! Johnson O'Malley enrollment applications are available on the Documents menu of the Ninnekah Schools page. See Coach Chuck Yackeyonney at the HS for more info.

JOM Parents Meeting tonight has been rescheduled for Mon Sept 12th at 6:30pm in Room 9 of the High School. Contact Coach Chuck Yackeyonny for more information by calling the HS (405)224-4299.

Have a happy and safe Labor Day weekend! School will be closed Monday Sept 5th.

Softball games today are being moved to Minco due to field conditions. Bus will leave at 3:00, games are still scheduled for 4:30.

Softball game cancelled today due to rain.

NHS: Jostens class ring and senior items ordering will be Mon. Aug 29th. National Recognition Products class ring ordering will be Wed Aug 31st. Deposit money is due at time of ordering.

HS Cheer Car Wash at Arvest today, 8am-3pm. Come help us raise money for uniforms!

There will be a JH Softball game on Mon, Aug 29 before the regular scheduled HS game. JH will play at 4:30pm, HS will play at 5:30pm.

Phones are down District-wide at this time. We apologize for any inconvenience as we work to resolve the issue as quickly as possible. Thank you.

JH/HS Softball game today changed to Ninnekah (will not be at Riverside) at 4pm. This is contingent on it not getting rained out.

The Ninnekah Back to School Bash, hosted by the Ninnekah FFA, will be Fri Aug 19th, 5pm-8pm, at the Outdoor Classroom Rec Area. All teachers, parents, and students are invited to attend. There will be softball, volleyball, hot dogs, and watermelon. Bring your gloves and other ball apparel!

Have a great first day of school Ninnekah!

School starts tomorrow! Vo-Tech students: You must go to the HS with all other HS students on first day of school - Do not go to Vo-Tech! All MS/HS students will meet outside their respective buildings before the first bell at 8:15am.

Open House is Tues Aug 16th! Elem 5:30pm - 7:00pm MS 5:00pm - 7:00pm

Teacher In-Service schedule for Monday Aug 15th has been changed. Certified staff will work in classrooms from 9am-12pm, lunch with Monk Chiropractic 12pm-1pm in cafeteria, followed by the all employee meeting 1pm-3:15pm. Teachers and staff will be able to attend funeral services for former NHS Spanish teacher, Joseph Macom, at 10am Monday at Epworth United Methodist Church in Chickasha.

Athletic Physicals Rescheduled!!! These will be offered at Ludwell Chiropractic on Monday, Aug 8th, 5pm-7pm. Cost is $25 per student. Take form with you!

Last day to Enroll! Elem, MS, & HS today 4pm-7pm. New students bring shot records/residence verification.

Enrollment reminder: Elem & MS are today 9am-3pm and Tues 4pm-7p. HS is Tues only 4pm-7pm. New students must bring shot records and verification of residence (utility bill, etc.).

The HS will be open from 1pm-3pm today to pick up physical forms. Also, these are available right here! Just go to the Documents Menu, then Athletic Forms, then look for OSSAA physical form.

Athletic Physicals Reminder - Ludwell Chiropractic will be at the High School on Aug 2nd from 4pm - 7pm. Cost is $25 per student. Open to all ages.

Did you get your Elem Supply List? Go to the Elem page now! (See News or Live Feed to view)

Enrollment is next week!!! (For all students) Elem/MS Aug 1st & 2nd, and HS Aug 2nd only. See Events for details!

Elem building is now accessible! Floors have been completed early.

Elementary closed until Aug 1st for waxing. Please do not enter the building under ANY circumstance!!! This applies to EVERYONE. Thank you for your understanding.

Athletic physicals will be offered at the High School by Ludwell Chiropractic on Aug 2nd from 4pm - 7pm. Cost is $25 per student. Open to all ages.

Ninnekah's entire campus will be closed June 27th - July 10th. Personnel will return July 11th.

Good morning on our last day of school for the 2015-2016 school year!

Welcome to our new website! We are still under construction, so please explore our site and keep checking back to see what's new!